[img]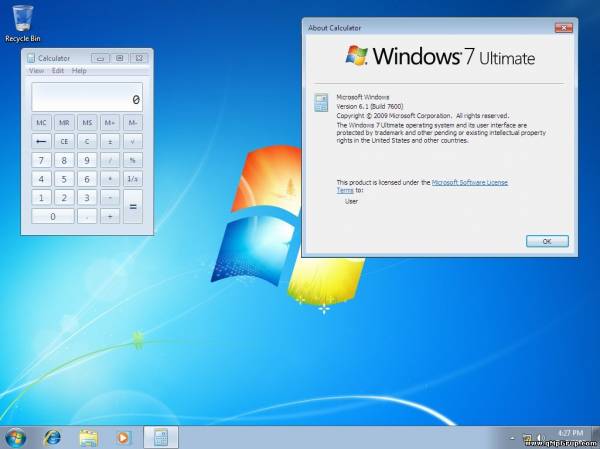 [/img]
QUOTE
The new MUI seems to work. This is taken from windows7center (GophaKyorselv).
A New MUI was leaked again tonight
During the install, I had to Take Ownership of the entire C:\Windows\System32\en-US\ directory, (And Set those two checkboxes for "All Child Objects to inherit" too)
But it worked.
Order of Operations:
1. Run Win_7_EN_MUI_32Bit.msi
2. Will pop up UAC Warning
3. Will say has insufficient permissions for a file in C:\Windows\System32\en-US\
4. Navigated to said directory, Right clicked, Edited Ownership to Administrators, checked "Inherit Permissions" checkboxes
5. Pressed okay out of dialogs. Went back into dialogs, changed Permissions to Full Control by Administrators. Pressed okay.
6. Retry button on the Install
7. Restarted when prompted
8. Control Panel>Change Display Language (2nd link)
9. Selected English from Dropdown
10. Restarted. Had to go into every dialog in that Regional settings thing and change it all to US then restart a couple times.
CODEAvailable for users only
rapidshare.com Win7_7600_x86_CN_EN_LP.part01_www.softarchive.net.rar
rapidshare.com Win7_7600_x86_CN_EN_LP.part02_www.softarchive.net.rar
rapidshare.com Win7_7600_x86_CN_EN_LP.part03_www.softarchive.net.rar
rapidshare.com Win7_7600_x86_CN_EN_LP.part04_www.softarchive.net.rar
rapidshare.com Win7_7600_x86_CN_EN_LP.part05_www.softarchive.net.rar
rapidshare.com Win7_7600_x86_CN_EN_LP.part06_www.softarchive.net.rar
rapidshare.com Win7_7600_x86_CN_EN_LP.part07_www.softarchive.net.rar
rapidshare.com Win7_7600_x86_CN_EN_LP.part08_www.softarchive.net.rar
rapidshare.com Win7_7600_x86_CN_EN_LP.part09_www.softarchive.net.rar
rapidshare.com Win7_7600_x86_CN_EN_LP.part10_www.softarchive.net.rar
rapidshare.com Win7_7600_x86_CN_EN_LP.part11_www.softarchive.net.rar
rapidshare.com Win7_7600_x86_CN_EN_LP.part12_www.softarchive.net.rar
rapidshare.com Win7_7600_x86_CN_EN_LP.part14_www.softarchive.net.rar
rapidshare.com Win7_7600_x86_CN_EN_LP.part15_www.softarchive.net.rar
rapidshare.com Win7_7600_x86_CN_EN_LP.part16_www.softarchive.net.rar
rapidshare.com Win7_7600_x86_CN_EN_LP.part17_www.softarchive.net.rar
rapidshare.com Win7_7600_x86_CN_EN_LP.part18_www.softarchive.net.rar
rapidshare.com Win7_7600_x86_CN_EN_LP.part19_www.softarchive.net.rar
rapidshare.com Win7_7600_x86_CN_EN_LP.part20_www.softarchive.net.rar
rapidshare.com Win7_7600_x86_CN_EN_LP.part21_www.softarchive.net.rar
rapidshare.com Win7_7600_x86_CN_EN_LP.part22_www.softarchive.net.rar
rapidshare.com Win7_7600_x86_CN_EN_LP.part23_www.softarchive.net.rar
rapidshare.com Win7_7600_x86_CN_EN_LP.part24_www.softarchive.net.rar
rapidshare.com Win7_7600_x86_CN_EN_LP.part25_www.softarchive.net.rar
rapidshare.com Win7_7600_x86_CN_EN_LP.part26_www.softarchive.net.rar
rapidshare.com Win7_7600_x86_CN_EN_LP.part27_www.softarchive.net.rar
rapidshare.com Win7_7600_x86_CN_EN_LP.part28_www.softarchive.net.rar
rapidshare.com Win7_7600_x86_CN_EN_LP.part29_www.softarchive.net.rar
Uploading.com
CODEAvailable for users only
uploading.com Win7_7600_x86_CN_EN_LP.part01_www.softarchive.net.rar.html
uploading.com Win7_7600_x86_CN_EN_LP.part02_www.softarchive.net.rar.htmlhttp://uploading.com Win7_7600_x86_CN_EN_LP.part03_www.softarchive.net.rar.html
uploading.com Win7_7600_x86_CN_EN_LP.part04_www.softarchive.net.rar.html
uploading.com Win7_7600_x86_CN_EN_LP.part05_www.softarchive.net.rar.html
uploading.com Win7_7600_x86_CN_EN_LP.part06_www.softarchive.net.rar.html
uploading.com Win7_7600_x86_CN_EN_LP.part07_www.softarchive.net.rar.html
uploading.com Win7_7600_x86_CN_EN_LP.part08_www.softarchive.net.rar.html
uploading.com Win7_7600_x86_CN_EN_LP.part09_www.softarchive.net.rar.html
uploading.com Win7_7600_x86_CN_EN_LP.part10_www.softarchive.net.rar.html
uploading.com Win7_7600_x86_CN_EN_LP.part11_www.softarchive.net.rar.html
uploading.com Win7_7600_x86_CN_EN_LP.part12_www.softarchive.net.rar.html
uploading.com Win7_7600_x86_CN_EN_LP.part13_www.softarchive.net.rar.html
uploading.com Win7_7600_x86_CN_EN_LP.part14_www.softarchive.net.rar.html
uploading.com Win7_7600_x86_CN_EN_LP.part15_www.softarchive.net.rar.html
uploading.com Win7_7600_x86_CN_EN_LP.part16_www.softarchive.net.rar.html
uploading.com Win7_7600_x86_CN_EN_LP.part17_www.softarchive.net.rar.html
uploading.com Win7_7600_x86_CN_EN_LP.part18_www.softarchive.net.rar.html
uploading.com Win7_7600_x86_CN_EN_LP.part19_www.softarchive.net.rar.html
uploading.com Win7_7600_x86_CN_EN_LP.part20_www.softarchive.net.rar.html
uploading.com Win7_7600_x86_CN_EN_LP.part21_www.softarchive.net.rar.html
uploading.com Win7_7600_x86_CN_EN_LP.part22_www.softarchive.net.rar.html
uploading.com Win7_7600_x86_CN_EN_LP.part23_www.softarchive.net.rar.html
uploading.com Win7_7600_x86_CN_EN_LP.part24_www.softarchive.net.rar.html
uploading.com Win7_7600_x86_CN_EN_LP.part25_www.softarchive.net.rar.html
uploading.com Win7_7600_x86_CN_EN_LP.part26_www.softarchive.net.rar.html
uploading.com Win7_7600_x86_CN_EN_LP.part27_www.softarchive.net.rar.html
uploading.com Win7_7600_x86_CN_EN_LP.part28_www.softarchive.net.rar.html
uploading.com Win7_7600_x86_CN_EN_LP.part29_www.softarchive.net.rar.html
Hotfile.com
CODEAvailable for users only
hotfile.com Win7_7600_x86_CN_EN_LP.part01_www.softarchive.net.rar.html
hotfile.com Win7_7600_x86_CN_EN_LP.part02_www.softarchive.net.rar.html
hotfile.com Win7_7600_x86_CN_EN_LP.part03_www.softarchive.net.rar.html
hotfile.com Win7_7600_x86_CN_EN_LP.part04_www.softarchive.net.rar.html
hotfile.com Win7_7600_x86_CN_EN_LP.part05_www.softarchive.net.rar.html
hotfile.com Win7_7600_x86_CN_EN_LP.part06_www.softarchive.net.rar.html
hotfile.com Win7_7600_x86_CN_EN_LP.part07_www.softarchive.net.rar.html
hotfile.com Win7_7600_x86_CN_EN_LP.part08_www.softarchive.net.rar.html
hotfile.com Win7_7600_x86_CN_EN_LP.part09_www.softarchive.net.rar.html
hotfile.com Win7_7600_x86_CN_EN_LP.part10_www.softarchive.net.rar.html
hotfile.com Win7_7600_x86_CN_EN_LP.part11_www.softarchive.net.rar.html
hotfile.com Win7_7600_x86_CN_EN_LP.part12_www.softarchive.net.rar.html
hotfile.com Win7_7600_x86_CN_EN_LP.part13_www.softarchive.net.rar.html
hotfile.com Win7_7600_x86_CN_EN_LP.part14_www.softarchive.net.rar.html
hotfile.com Win7_7600_x86_CN_EN_LP.part15_www.softarchive.net.rar.html
hotfile.com Win7_7600_x86_CN_EN_LP.part16_www.softarchive.net.rar.html
hotfile.com Win7_7600_x86_CN_EN_LP.part17_www.softarchive.net.rar.html
hotfile.com Win7_7600_x86_CN_EN_LP.part18_www.softarchive.net.rar.html
hotfile.com Win7_7600_x86_CN_EN_LP.part19_www.softarchive.net.rar.html
hotfile.com Win7_7600_x86_CN_EN_LP.part20_www.softarchive.net.rar.html
hotfile.com Win7_7600_x86_CN_EN_LP.part20_www.softarchive.net.rar.html
hotfile.com Win7_7600_x86_CN_EN_LP.part21_www.softarchive.net.rar.html
hotfile.com Win7_7600_x86_CN_EN_LP.part22_www.softarchive.net.rar.html
hotfile.com Win7_7600_x86_CN_EN_LP.part23_www.softarchive.net.rar.html
hotfile.com Win7_7600_x86_CN_EN_LP.part24_www.softarchive.net.rar.html
hotfile.com Win7_7600_x86_CN_EN_LP.part25_www.softarchive.net.rar.html
hotfile.com Win7_7600_x86_CN_EN_LP.part26_www.softarchive.net.rar.html
hotfile.com Win7_7600_x86_CN_EN_LP.part27_www.softarchive.net.rar.html
hotfile.com Win7_7600_x86_CN_EN_LP.part28_www.softarchive.net.rar.html
hotfile.com Win7_7600_x86_CN_EN_LP.part29_www.softarchive.net.rar.html